27 Nov

Bridal Nose Ring 101: Tips for Brides with Piercing and Without One

Any girl, who likes or dislikes dressing up, has thought over her wedding day look a million times in her head. There are tons of options available for jewelry in the market today, but bridal jewelry and bridal naths play an integral part of your bridal look. The adorned nose loop can enlighten the face of a bride of beautifully. Lured by wanting to look beautiful at their wedding day, almost every Indian bride adorns a nose ring on her wedding day. The good thing is that now the girls without a nose piercing don't need to worry about flaunting a nose ring on their wedding day. However, clip on naths have a tendency of slipping away, hence to avoid such circumstances, we have put together some important tips for you.

Enjoy!
Tips for Brides without Nose Piercing
 Brides without nose piercing can be in a vulnerable situation because most of the times, these girls do not have previous experience with nose piercings either. Brides with a similar checklist must be extra careless on their wedding day. It is advisable for these brides to invest in a regular clip on nose ring 1-2 months prior to her wedding and they should wear the nath as much as possible. You will be able to judge your comfort level with your clip on nose ring within a month and you will know if you can carry it for long.
You must keep in mind the weight of the nose ring too while buying it. Clip on are advised to be lighter on weight. Hence an ideal clip on nose ring for your wedding day would be a small to medium sized nath, which is embellished but isn't too heavy. Nose ring attached to a chain also might be a good idea to maintain balance and divide the weight with the earring. Avoid pressing it on your nose to avoid redness, cuts or marks of any kind. While eating anything you can avoid wearing your clip on to avoid hassles.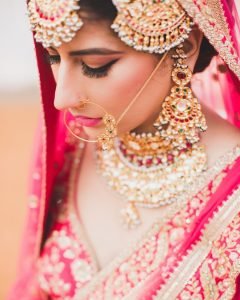 Tips for Brides with a Piercing
It will be a piece of cake for the brides who already have a piercing or wearing nose rings regularly. A piercing will keep the nose ring in place and would definitely trump clip-ons. However, things can still go wrong for these brides. The bride must ensure that their nose rings aren't thicker than their nose piercing. Since they must not be used to wearing heavier bridal nose rings, it is advisable for them to try on their nose ring too. Eating while wearing the nath must also be practiced beforehand. You should keep in mind that the nose ring is well sanitized will switching for one nose ring to another. The latch on the nose ring must be done right. Too loose or too tightly latched nose rings would be a reason for discomfort on your big day.
While flaunting your nose ring, do not fidget with it. Fidgeting will lead to uncomfortable and itchy circumstances. Last and most important tip is to not get your nose pierced right before your wedding. If you want to get your nose pierced the proper way, get it done at least 2 months before your wedding in order to bear the weight of your bridal nose ring.
Hopefully these super tips were of some help to you. Do not forget to have fun and dazzle your wedding day with the most beautiful nose ring and a million dollar smile on your face!