24 Feb

Style yourself with nose pin without getting pierced

A pretty nose ring can make you go from basic to elegant. Whether it is a thin metallic string or a more intricate one, a nose ring completes the ethnic look like no other piece of jewelry. No wonder so many women want to get their nose pierced.

What is a fake nose Pin?

Fake nose pin is simply faux that you carry whenever you want without getting your nose pierced actually. It is an artificial nose pin that sets on your nose without causing pain or irritation. Instead of going for a painful nose whole or piercing you can have the pieces of jewelry that just clasps on your nose and give you a secure and painless feeling. So as it is now clear that you can fake your nose with the artificial nose rings, there are many different attractive ideas of nose pins that you will definitely like.

Benefits of Artificial nose pins over real nose piercing.
As long we are talking about the artificial nose pins. It is essential to elaborate on the benefits of having artificial nose pins over having the painful actual nose piercing. You might have noticed that when one goes through the nose piercing he has to take care of it for so long. He is not allowed to put it away and get himself free of pain. He might get an infection or continuous bleeding. Then weeks and weeks pass just to heal that.
While when you keep the artificial nose rings you can wear it on and off with your wish. Whenever you want you can put it away. You can take it occasionally or for a longer period. It all depends on you.
Choosing the Faux Nose pin
When you go to choose the false nose ring, it is the same process as you go to buy the jewelry. The only difference is that you do not need to insert it into the nose pierced hole. But choosing the perfect nose ring means that it must be suitable according to your dress and face. So consider these two points more importantly while going to have a faux nose pin.
Face Shape and suitability of nose ring: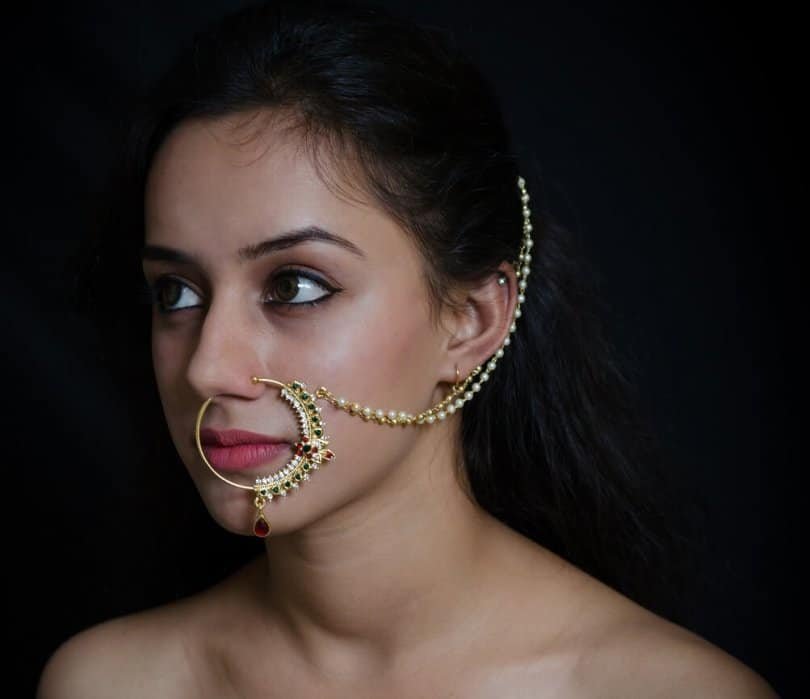 This type of nose pin you choose mainly depends upon the size and shape of your face. Well, among all the faces the studded nostrils are famous that suits nearly everyone.
The sensitivity of the Skin:
It is a very important factor. You must be picky in selecting the nose pin you want to wear because it must be according to your skin type make it sure that the piece which you are going to wear does not cause any irritation to your skin and suits your skin in a better way. Do not buy any low-quality jewelry that can cause severe reactions.
Nose pins are a big part of tradition in many countries. Even though it was a part of Middle Eastern culture, in the 16th century, the wives of the Mughal kings of India started to wear nose pins in the simplest of forms. The pins were floral patterned dots attached to a small stem which had a firm screw to hold it inside the nostril. They were also seen wearing big circular hoops which covered a part of their upper lip.