28 Mar

How nose-pins can change your look?

Have you thought of something that can make you look good on a one go without must hustle? Have you tried or thought of Nose pins? Yes, Nose pins can change the way your face looks instantly. They highlight your facial features and make you look better. So, it is necessary to choose a nose pin and a piercing style that suits you. But this could be a little tedious as there are various options available. Read below in order to figure it out which piercing and nose pin to look for.
Which Piercing to go for?
These days regular piercing and septum piercing style are in trend. Regular piercing is done right at the centre of the nostril on one side of the nose. Whereas, Septum piercing gives a bull ring look and is done in the middle of the inside of your nose between the nostrils. Similarly, there are more piercing styles present to choose from. To opt the best for yourself take suggestions and explore the types of piercing that will suit your face.
What is the right Nose Pin for me?
It is important that you choose the right nose pin as it will enhance the look.
Long face: If you have a long face then go for beaded or a studded nose pin. It will enhance the edgy features of your face and will attract attention towards the upward part of your face.
Small face: Diamond nose pin or a small gold nose pin is best suited on your face, as it gives a simple and subtle look. If you choose a bigger nose pin then it will draw all the attention and won't look good on your face. Gold jewelry manufacturer India can also give you different small nose pin designs so that you can select the best one.
Wider facial feature: Go for septum piercing if you have broad nostrils, as this will make your nose look smaller and prettier. People with wide nostrils avoid getting nose pierced as they believe that it would make their face look even wider. But septum piercing will cover up the wide space making your nose look beautiful.
Broad Forehead: If you have a broad forehead go for a big nathani, as it will capture all the attention and make your face look more appealing. You can choose studded nathani too.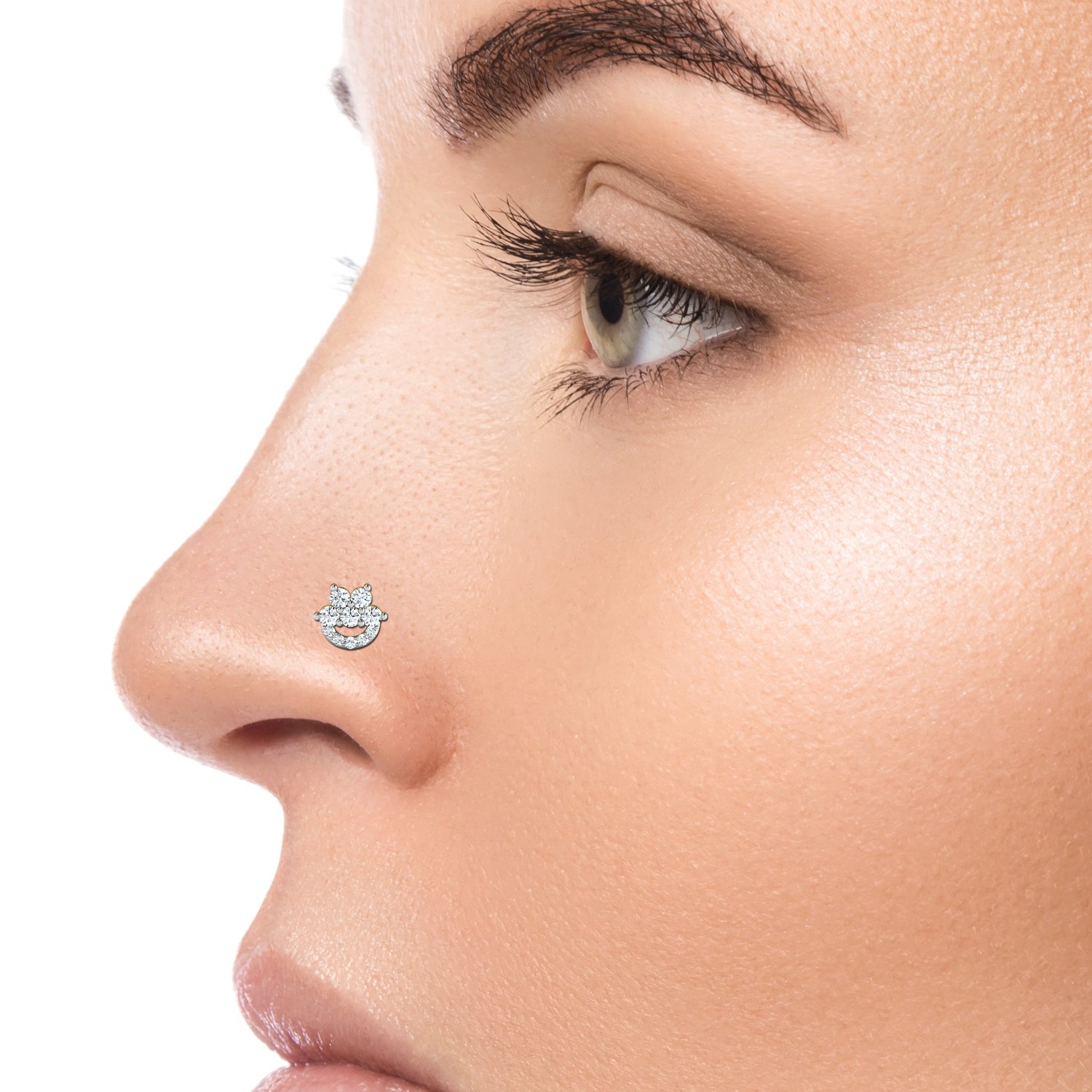 Oval face: If you have an oval face and a little heavy face then opt a half-beaded nose ring. It can make your face look slimmer and attractive.
Round face: If you have a round face then almost every nose pin will suit you. If you have a small nose then choose a small gold nose ring, as it will make your face look more elegant. And if you have a long nose choose a big nathani. Almost every style looks good on people with round faces.